European Edition of Minosia Labyrinth launched!
After two years of intensive development work, the time has finally come. The first version of "Minosia Labyrinth" is ready to go!
At the end of September, we were able to try out the roleplay and simulation game for the second time in an improved version during a training for instructors on the Dutch island of Ameland. In the next weeks, we will now fix the last few errors and complete the design and then the English-language basic version (European edition) will be finished. At the same time, with our partner organizations in the Netherlands, Italy and Romania, we are getting down to work and working out the national versions of the game in the respective national languages and with regional specificity.
But what is Minosia Labyrinth?
Minosia Labyrinth deals with the topic of migration and inclusion. During the game, players slip into the roles of migrants, but also of institutional and social actors in and around our fictitious arrival country "Minosia". There are many rules to follow. Forms, documents, laws as well as the search for home and work mark the way of the newcomers and provide challenges on all sides.
And why Minosia Labyrinth?
The name of our game goes back to the ancient Greek legend of Minos. During the development of our game, the image of a maze through which migrants have to find successfully their way became more and more clear. At the same time, the individual can hardly overlook the system in which they are moving. Often they are on the help of others, running around in circles or long time failing to come out of a dead end. It takes a "common thread" to understand what migration in and for our societies means and what successful steps can be for inclusion. Minosia Labyrinth seeks to increase empathy, understanding and self-reflection – an essential requirement for living in an increasingly globalized world.
We are building a network of experts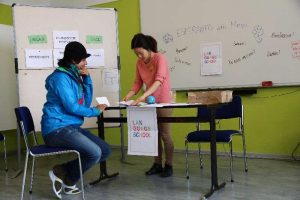 In the coming months, we will build a network of experts who can guide the game in future in Germany and beyond for interested target groups. For interested trainers, it is planned to offer training courses for Tutors from 2020 onwards. In addition, we want to stay in contact and exchange with various agencies and institutions using the game in order to share our experiences and continue developing the method – because Minosia Labyrinth will be made available under CC license for free use and further development. In addition, we will produce 100 German editions of a ready-made "toolkit" that coaches can use right away.

Let yourself be surprised and stay up to date by subscribe to our newsletter or follow the development of Minosia Labyrinth on facebook.
At the end of October / beginning of November our next local networking meeting will take place in Berlin. Date and location will be published here soon. Multipliers in political and social education are welcome at the meeting.
You can already take a first look at our – still unfinished – new website here.