Category:
28. November 2015
PoC PERSPECTIVES
A) postcolonial perspectives on local realities: postcolonial Berlin tour
On Saturday the 28th of November which was the 5th day of our program, it was time for our post-colonial tour through Berlin. On this cold winter day, when the first snow of the year covered our hairs, we did not know what to expect, but we soon found out…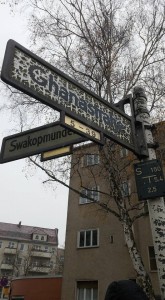 Josephine, our tour-guide, was waiting for us at the exit of the metro station in Wedding. She guided us through the colonial history of " das Afrikanische Viertel", German colonialism and how racism is currently still being reproduced through colonial references. We started our tour at 'Ghanastrasse'. On first glance, this street seems just like the average suburban German street. But during the tour, we stopped at street corners several times, where we were confronted with the 'dark side' of these street names. The sensitivity of the topic was instantly felt when we noticed that Josephine was very conscious in her word choices. For example, when referring to 'Mohrenstrasse', a street name with racist connotations, she chose to use the word 'M-Strasse'. In our perception, this was done to deconstruct the colonial/racialized concepts instead of reproducing them.
At a certain point, we stopped at a particular street corner called 'Petersallee'. Josephine told us that in colonial times, this street was named after Carl Peters. This man was known as a highly controversial colonialist. The notorious aspects of his life were reflected through various atrocities that were attributed to him. For instance, during the German colonial era, Peters was responsible for founding the Society for German Colonisation, later renamed the German East Africa Company. The purpose of this organization was to ensure as many 'protectorates' for the German Reich as possible. Seizing, controlling and de-facto colonizing these lands was paired with a great deal of violence and brutality. Later, Peters also became known as 'Hängepeters', which referred to his bloody methods that among others involved the hanging of his enslaved concubine and her lover and burning down their villages after he found out about their affair.
When we stopped at Swakopmunder Strasse, which is named after a city in Namibia, Josephine told us about the history of German colonialism in Namibia. What happened there was a prelude to what was to come in Nazi Germany, since the Germans established their first concentration camps in Namibia. People were used as slaves and sometimes tall Namibian men with 'masculine' features were taken to Germany to be displayed as trophies or status symbols. From the information provided during the tour, it became clear that the colonial past is still very much present and heavily debated in different layers of the German society. For instance, when regarding the example of the Namibian genocide, an official apology by the German government was issued as late as August 2004.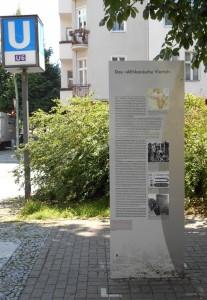 After a long discussion, the writers of the information board in the quarter could not agree on their writings. So they decided to write two different texts about the quarter, on one side of the board a text was provided by NGOs and local activists, on the other side a text was written by politicians and the local assembly. Josephine purpously started at the side which was written by the NGOs. On this side you could see the word Afrikanische Viertel in quotation marks and photo's of the cruelty of the colonialists.
On the other side she showed us that the slaves were portraited as powerless victims. For instance, the colonialists discussed their colonies in their conferences and after colonialism everybody was living happily ever after.
In October 2004, a local assemblyman proposed a motion to rename 'Mohrenstrasse' (Blackamoor Street) and thereby set in motion a debate about how to deal with colonial references present in public space. The proposal was heatedly debated in the media, in public meetings, university departments, postcolonial- and anti-racist activists, citizen initiatives, various NGO's and local politicians. Unfortunately, this proposal was refused by the majority of the local assembly. However, they did decide to pass a resolution to promote the 'critical examination' of German colonialism. Furthermore, an information board was set up in the 'Afrikanische Viertel' to contextualize the street names in this part of the city. Nevertheless, the discussion of what 'critical examination' actually means, continues today (Engler, 2015).
For instance, the street name of 'Petersallee' has only been changed to a certain extent. When local activists proposed to change the name, the local assembly decided to only change the historical reference of this person. This was done by adding an additional sign to the 'Petersallee' that refers to Prof. Dr. Hans Peters, instead of changing the entire street name. This practice of contextualizing and (partly) renaming controversial street names, in fact perpetuates a double standard. This double standard becomes even more clear when making a comparison to the example of the German Socialpolitik. During this period, many hurtful and notorious Nazi-references were removed from public spaces. While up to now, the same has not been achieved for the colonial references that are still clearly visible to the public eye.
We ended the tour in a cosy café, where we had a discussion with Josephine about our impressions. Summing up, we are able to say that the tour showed us how colonialism and racism are still intertwined to our present daily lives. We might not notice it, but we are confronted with it every day. For example by passing by or living in streets that bear names of a dark and terrible history. The fact that we are often not aware of this, is part of the problem: racism is structurally internalised in our minds. We can only achieve equality in society by making sincere efforts to decolonize our minds.
Reference:
Engler, J.  (2015) Renaming Streets, Inverting Perspectives: Acts of Postcolonial Memory Citizenship in Berlin, Focus on German Studies, 20. Humboldt University of Berlin.