We started our day with morning circle where we shared impressions from Colonial tour in which we participated in on Saturday.
Working schedule was opened by Tanja, where she presented *Antibias approach*. You can find more about it at this pptx-file.
In the morning activities were interesting, important and good, but not very well connected. After Antibias presentation we did *Power Flower* which was simple but effective tool we used to examine our own privileges. The fact that we found it difficult to decide where to colour in some areas as it can depend on context, perspective and comparison meant that we were probably also quite privileged in those areas. The small group discussion afterwards led us to reflect even further on our privileges. It was very interesting discussion and it particularly struck us the opinions about institutional discrimination and personal discrimination.
*What opinion exists in your country related to Syrian regufees*
This was the next activity where, for some participants it was uncomfortable to represent their countries because it is not easy to give realistic image of how refugees are seen in their contries. We did talks in small groups and presented our discussions afterwards. Views on this topic were different regarding to the country we are coming from. For example, in wealthy countries such as Netherlands one of the main discourses is that Syrians came to rape our women, in France after Paris attack they are quitting the fonds for refugees, still representing them as that they came to take our money and jobs. In transit countries like Serbia, people are scared that they will bring diseases and destroy parks, make a lot of trash.
What was significant about these two exercises (Flower Power and opinion about refugees) is that we worked in small groups, so that everybody had a chance to talk and had more space to share opinions with others.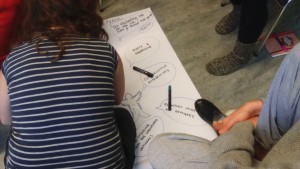 *Activists Report*
We had a presentation from the activist, who shared his experience of being a refugee and fighting for the rights of refugees in Germany, from non institutionalized perspective. It was a good opportunity to hear the voice of someone who has this experience.
He made powerful opening of the presentation, where we had 30 seconds of silence for people who are dying, people who died on their way to Europe.
He explained situation of refugees in Germany, how they are selforganized and thier self organisations and he talked about common political struggle which was quite interesting since he introduced different ways people organize to support refugees. Some ways of being in common political struggles are: indepented individuals, anti racist initiatives, churches, registered associations, political parties and para govermental organization.
He made critisism about how different initiatives works and explained that he doesn't want to represent refugees since he sees himself as "privileged refugee" cause he can go to school, have access to public fonds etc. We had some doubts about his position that he took in this presentation, because he did talk about the life of refugees so it was difficult to seperate his personal experience and point of view from the other refugees, so for us he was representing refugees. Also, it was hard to start a discussion cause he wasn't really willing to listen to the others and understand what they actually wanted to say.  But he did give us diferent inputs and knowledge about this topic and the history facts that we didn't know about.
And the most fun of the day was *Open space* where one part of the group went outside with Josh, to collect different items, while others stayed in green room with MAtteo doing activity about stereotypes. With Josh we tried to create relation with our identity related to the place where we are.
Activity purpouse from MAtteo is in this guide (Diversity Activities Resource Guide and the name of the activity is "Whom to leave behind".