The World Cafe provides for collective learning:
"People already have within them the wisdom and creativity to confront even the most difficult challenges; that the answers we need are available to us; and that we are Wiser Together than we are alone."
More information about the World Cafe method.
The World Cafe method is designed to discuss and reflect on different large topics. A group of people starts at one table, discussing a question/topic related to the theme of the workshop, and doodles their answers on a flip chart. Afterwards, there are several rounds, in which participants go around the World Cafe, to learn about the different topics, while discussing and adding to the flip chart. There are as many rounds as tables, so that each participant has the chance to learn about all topics.
In our World Cafe, we had a slightly different approach. All participants had been asked to provide basic information on migrants in their countries, previous to the start of the Training Course. What are their countries of origin? What about living conditions? What is the media discourse on the topic? How are migrants and refugees related? On our second day together in Berlin, the country groups got together and collectively worked on the presentation of their data.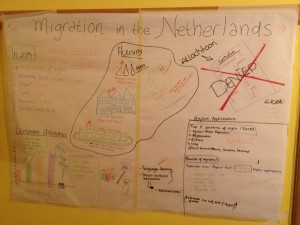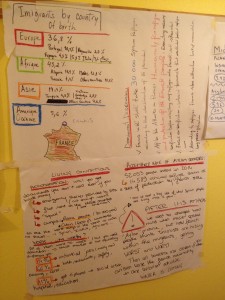 In order to create an even deeper World Cafe setting, we suggest to ask participants to bring typical sweets from their countries. The different tables would then get an actual taste of the place. Also, it would be good to keep track of time during the second phase. In that way, participants spend a certain amount of time at each table, and no information will be overlooked.